Neoclassical, baroque, modern, Asian, art deco—for the design enthusiast who can't choose, then the Hollywood Regency style offers an opulent mix of them all. One such purveyor of this artistic movement is Linda Feld, an antiques dealer with a booth in High Street. We spoke with her to find out more about the principles of this particular approach to interior design and architecture.
"Eclectic," as offered by Linda to describe the style, connotes a jumbled mess. However, true Hollywood Regency is theatrical but still glamorously put together. This glitzy blend of multiple design sensibilities transports one into a room that Jean Harlow or Greta Garbo may have once graced with her presence.
It is a reinterpretation of midcentury design that made its way to the movie sets and homes of stars during the golden era of film. Pioneered by designers like William Haines and Dorothy Draper, it is characterized by luxurious fabrics, daring patterns, and glossy finishes. The idea is to create spaces that make people look good. It is a feat best accomplished when guests are sitting on a plush velvet chaise lounge while being softly lit by a crystal chandelier.
Linda further explained to us the aesthetic that has become her passion.
Beyond just recreating Old Hollywood sets, adding vibrant pops of color and touches of whimsy will make a room unique. This is especially evident when we looked around Linda's booth. On one side are art deco ornaments amidst a retro Technicolor backdrop, while on another are Chinoiserie pieces framed by a rare vintage calligraphy screen. The clash works as it suggests an interesting and worldly-wise personality.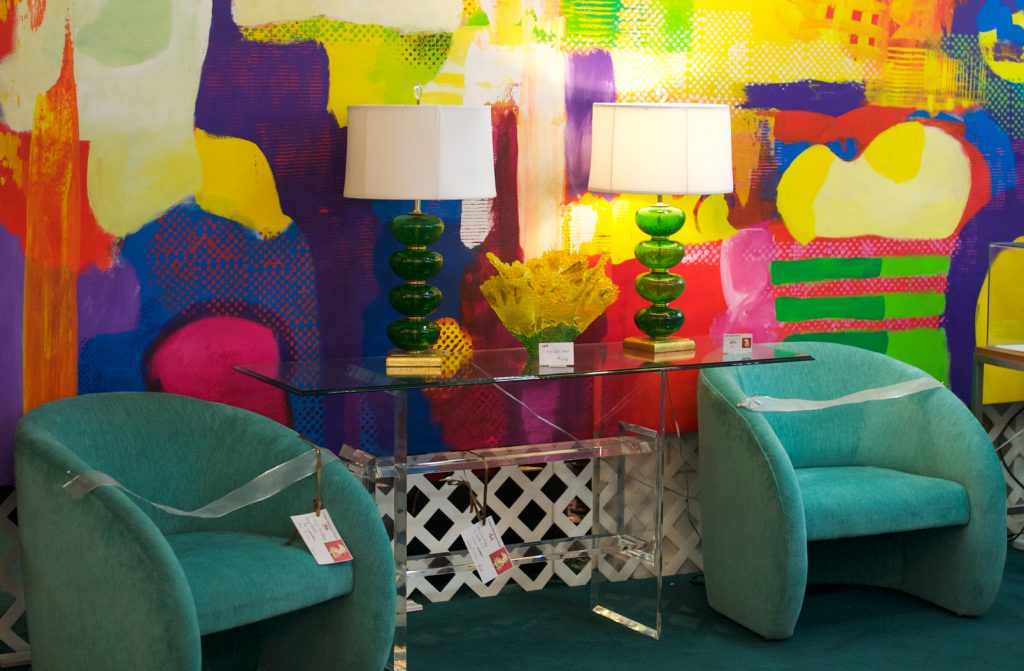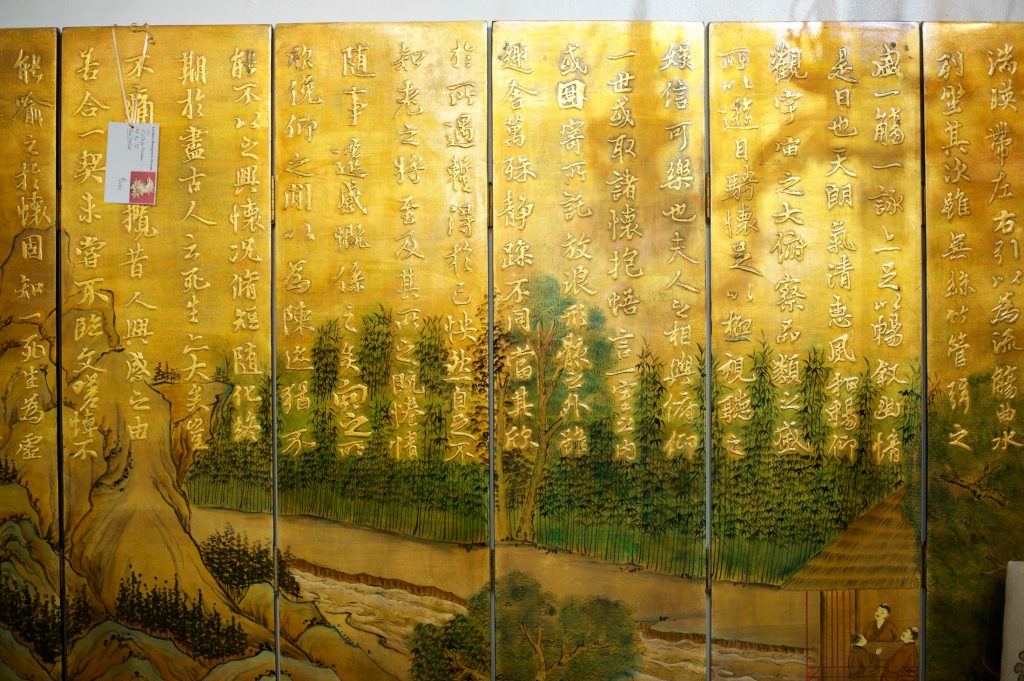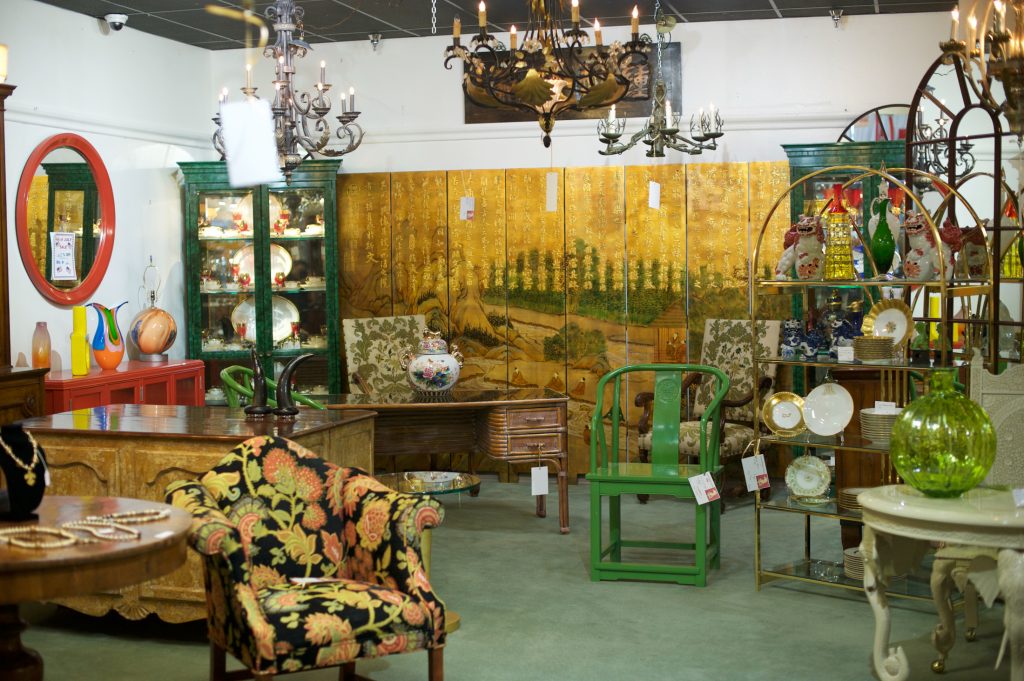 As we got to know more about how she acquired her ample collection, Linda shared that she always loved furniture and design. Her eye for beautiful things was honed by years of working in high-end retail, traveling internationally, and running a fabrics business. She left Theology school for California to pursue fashion, "because that's what [she] really loved."
She went into buying and selling antiques for the thrill of the find. When we asked her to name a favorite piece in the room, she pointed to a pale green Gampel-Stoll elephant desk and chair from the 60s. Linda confessed that she bought it since it's "something that at some point, some person will just want to have it just because it's so fabulous." She is so fond of it that she has the same piece at home except lacquered in Oriental red, a color she often uses for breathing new life into old furniture.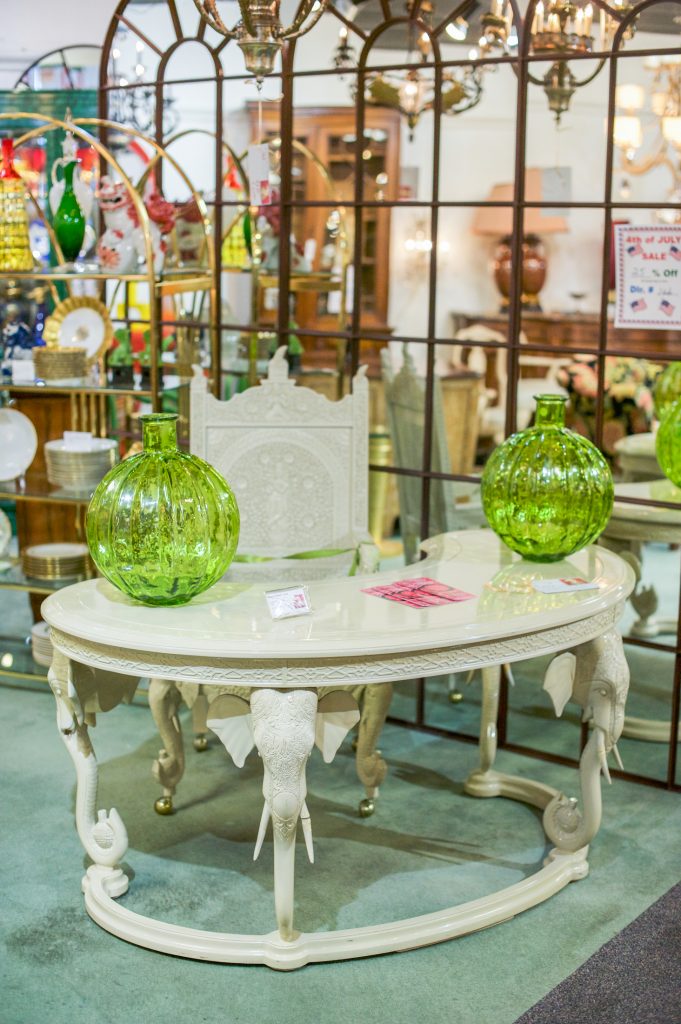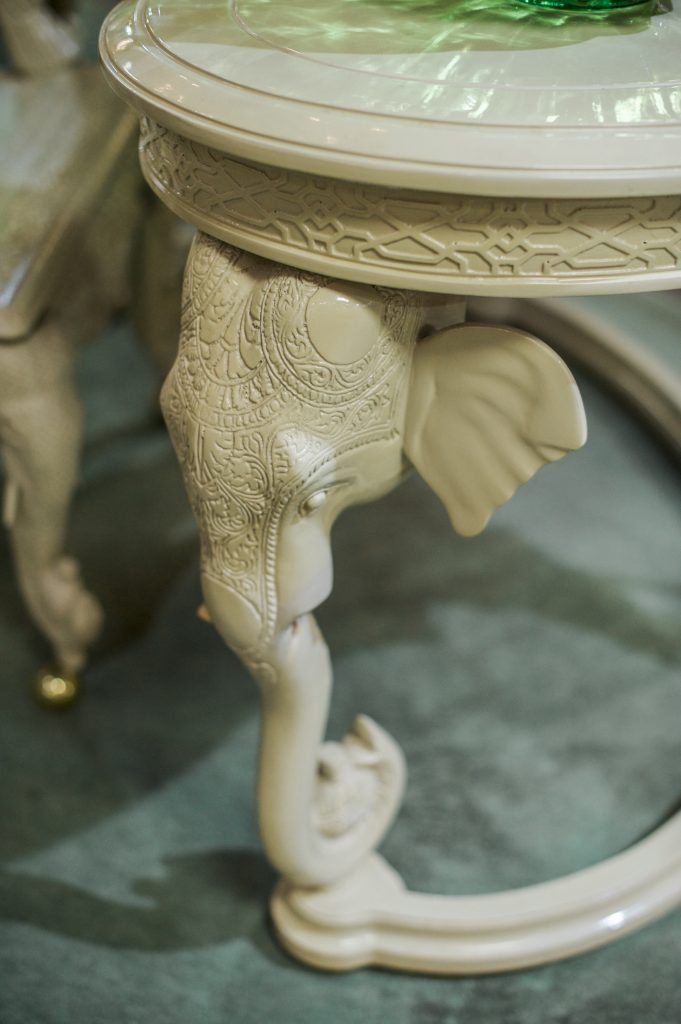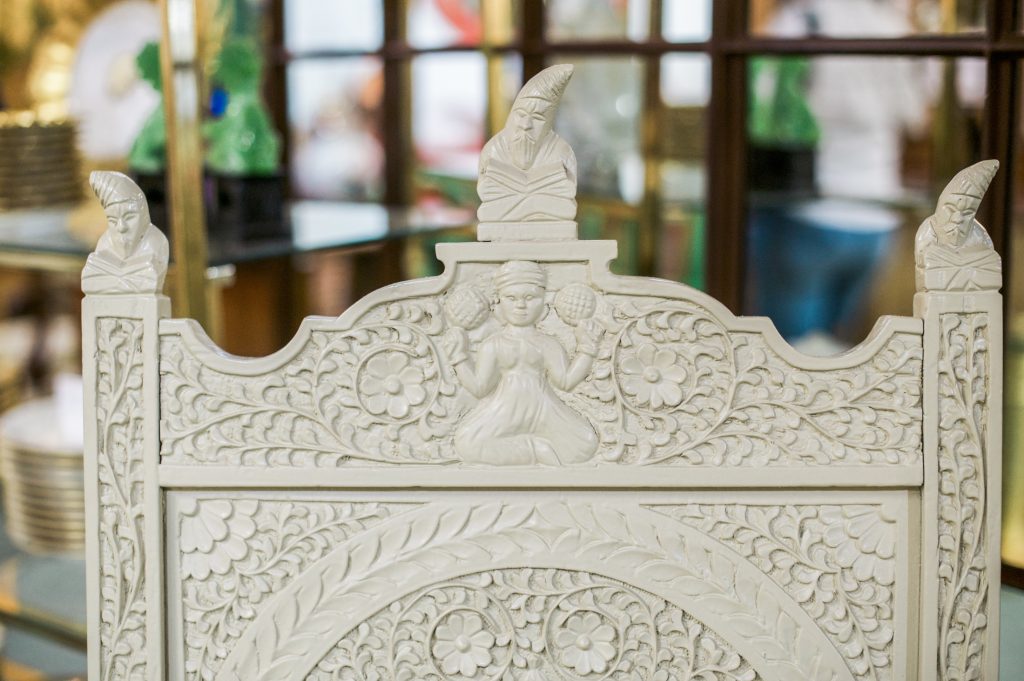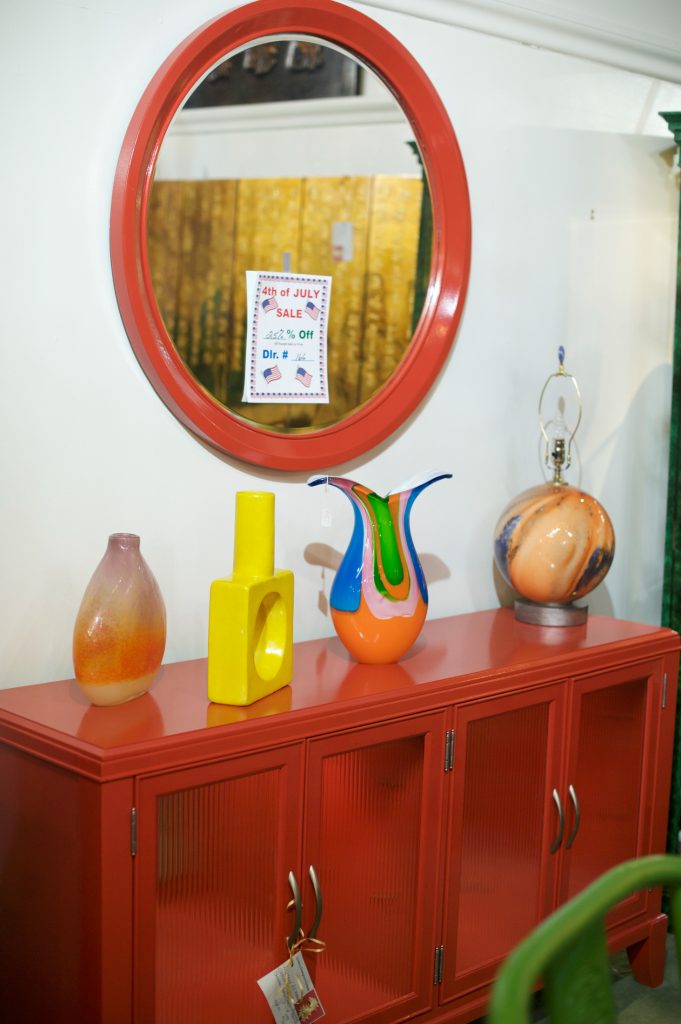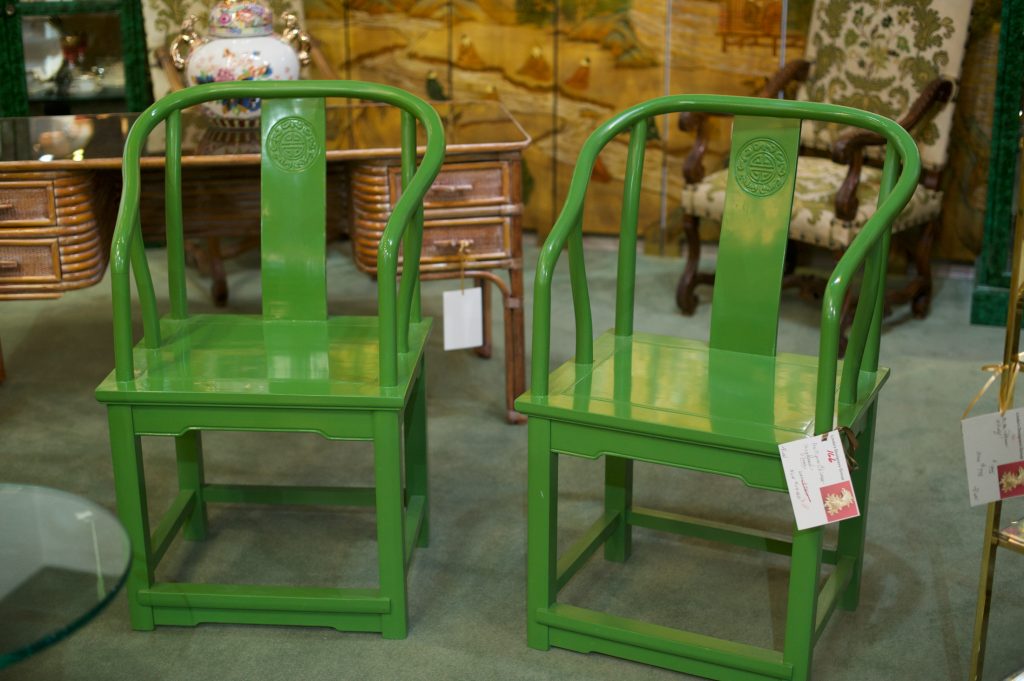 Transformation is a recurring theme among Linda's pieces. Her advice to those seeking to buy old furniture is to find items that they can afford to both purchase and restore when necessary.
Like many antiques collectors, Linda buys from auctions and estate sales. And throughout her search, it wasn't only objects that she found. The process seems to have also transformed her.
She said, "I loved the pieces. I loved finding [something] different and new, but I also love the people you get to know across the United States—a lot of people who love the same thing."
While it is possible to study any design style through books and pictures, it is much more rewarding to learn from fellow aficionados. Hunting for treasures takes on a new meaning because the memories and knowledge of other people can be just as valuable.
On being part of the High Street family, Linda graciously told us, "The people here have been just terrific and I love the warmth of everybody… [We are] in the same boat working together and that's been nice because that's not always the case in this industry."
If Linda's sentiment strikes a similar chord with you, then visit High Street Antiques and Design at our location in Plano, Texas. Experience this same warmth and discover unique items with stories as compelling as those told on the silver screen. Budding decorators and antiques enthusiasts will find that this is the right place for anyone who appreciates beautiful designs from any period in history.
Some other fabulous finds spotted at Linda's Booth