There is a story behind every piece in High Street. That is definitely not true for the generic mass-produced items being sold in most malls these days. Instead, we offer an alternative scene for people looking for the unexpected.
Over the years, many amazing entrepreneurs, artisans, and collectors have found a home with us. We'd like to share some of their stories in the hopes of inspiring everyone to pursue the beautiful, fine things in life. These folks started with a passion and soon discovered that others shared the same interests. Learn how they got their start, who inspired them along the way, and what they love most about what they do.
---
Husband-and-Wife Team's Antique Persuasions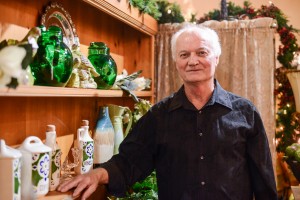 Hal Rackley and his wife thought that running a booth for three to six months would be enough to downsize their personal antique collection. However, they discovered that "it was a hoot doing the business" and quickly got hooked.
Mrs. Rackley adored antiques as a child, and she acquired her first piece when she was only a teenager. She triggered a similar obsession in Hal, and it has been a mutual, life-long passion since then.
The husband-and-wife team now has an extensive inventory sourced from garage and estate sales. Clients also regularly ask them to take a look at possessions that might be of value. In the couple's hunts, they have come across a lot of strange items with Hal's favorite being a full-sized stuffed buffalo.
---
Eddie, the Treasure Hunter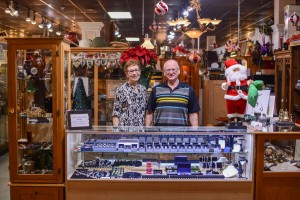 Eddie Raye started buying fine jewelry as a hobby in 1989, and he's "been [in the business] ever since." Inspired by his sister who also loves jewelry, he went on to look for other artifacts with interesting stories— much like a modern-day treasure hunter. He eventually specialized in Civil War and World War II militaria.
Today, Eddie has an impressive trove that includes a 500-year old sword considered to be a Japanese national treasure. He also obtained items that belonged to William "Buffalo Bill" Cody such as a leather gun case and an engraved mirror gifted to his wife, Louisa. It is believed that the legendary cowboy bought the latter during one of his travels to Europe. But as remarkable as all these items are, Eddie considers a gun that once belonged to Bonnie Parker (of the Bonnie and Clyde fame) as the most unique.
---
The IBM Engineer Turned Clockmaker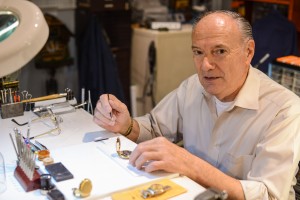 Lew Bishop considers making clocks as "an interesting occupation, and it is dying out." It is certainly difficult to find a master craftsman like him these days who still frequently does house calls and runs two shops—one at home and another at High Street. He also has over 8,000 crystals that will allow him to repair any clock regardless of age or rarity.
He started with a woodworking business and was once asked to build a grandfather clock. His wife then thought that he should learn how to make clocks. It has been 35 years since he learned his craft from a German professor dubbed "The Perfectionist" who trained him "in anything that goes tick tock." Lew credits his background as an engineer for IBM in helping him to better understand clockwork.
In his trade, he loves encountering 200 to 250-year old clocks. Vintage clocks are special because families built them with a different member making each part. They have also been tinkered with several times over the years and repaired with any available materials. This poses a unique challenge to a clockmaker like him.
---
People with a Passion for the Unique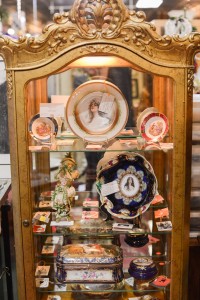 At High Street Antiques & Design, we cater to more people with fascinating stories like Hal, Eddie, and Lew. They had unusual hobbies that they turned into viable businesses, and are now reaping the benefits. Not only do they take pleasure in their work, but they are able to help others experience the same thrills of finding one- of-a-kind pieces. Most of them have become successful enough to leave their mainstream professions and lead flexible creative lifestyles.
We provide dealers with a venue to share their specialties. Furthermore, the sales and promotional support are done by our team, so our partners can focus on enjoying what they do best.
We also welcome buyers seeking the unique to visit our convenient location in Plano, Texas. There are 280 booths under one roof that all offer beautiful and rare selections. Both amateurs and pros who are in the market for taxidermy animals, mythical objects, things that go tick tock, or anything else out of the ordinary will find something to cherish. Peruse the endless choices and hear the best stories we have in store for everyone.